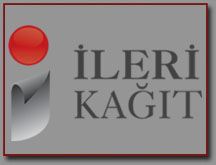 İleri Kağıt Karton Ürünleri Sanayi ve Ticaret A.Ş. 18 yıllık hizmet deneyimi, konusunda uzman 42 çalışanı ve kağıt-karton sektöründe 60 gr.dan 500 gr.a kadar uzanan ürün yelpazesi ile sektörün öncü-lider kuruluşlarından birisidir.

Firmamız; kalite ve hizmet anlayışını gelen talepler doğrultusunda fiyat avantajlarımızla birleştirip yerli ve yabancı birçok ürünle siz sayın müşterilerimize hizmet vermektedir.Bu ürün yelpazesi büyük kağıt fabrikaları ile çalışılarak desteklenmektedir.

Amerika'dan Asya'ya dünyanın birçok ülkesinden kroma karton, amerikan bristol (fbb-sbs), kuşe kağıt ithal ediyoruz. Nirotek çıkartma fabrikasının Türkiye temsilcisi ve distribütörüyüz.

Ülkemizde yayıncılık, ambalaj ve matbaa sektöründe faaliyet gösteren firmaların ihtiyaçlarına her zaman karşılık verebilmek temel prensiplerimiz arasında yer almaktadır.

İzmir şubemiz; Ege İleri Kağıt ve Karton ürünleri Sanayi ve Ticaret A.Ş. ile birlikte kalite ve hizmet anlayışımızı Türkiye'nin her yerine ulaştırmanın haklı gururunu taşıyoruz.

Yüksek depolama tekniği ile toplam 10.000 m2 kapalı alan depolarımızda, son teknoloji donanımlı kesim ve dilme makinelerimizle seri ebatlama ve hızlı servis hizmeti sunmaktayız.

Uluslararası deneyimlerimiz ve hep "İLERİ" yi hedefleyen vizyonumuz ile siz müşterilerimiz için doğru ve güvenilir çözüm ortağı olmaya devam ediyoruz.
Our company, Ileri Kagit Karton A.S. experienced for 18 years, is a leader in the paper-cardboard sector with its 42 professional/expert/specialist employees and wide variety of products ranging from 60 gr up to 500 gr.

We combine the quality and price advantages in accordance with the demands received from our customers and provide you with numerous local or imported products. The range of our products is supported by the huge paper factories we do business with.

We are importing duplex board, american bristol (FBB-SBS) and coated paper, offset paper from various countries all around the world, including America and Asia. We are the distributor and representative of Nirotek (self adhesive papers) Industry in Turkey.

One of our objectives/goals is to be capable of always meeting the needs of companies active in packaging, printing and publishing sectors in our country.

We are proud to state that we have spread out our conception of service and quality all around Turkey, together with our branch office Ege (Aegean) Ileri Kagit Karton A.S. in Izmir.

We are presenting / demonstrating rapid service and special cut sizes according to the customers request through our latest technological hardware of sheeting and slitting machines, in our covered area warehouses furnished with high storage technique, which are for 10.000 m2 in total size.

We will continue to be the right and trustworthy partners for our valuable customers, through our vision that is always targeting "LOOKING AHEAD" and our global/international experience.